He has become the first man in Ireland to perform a wedding ceremony for his own daughter.
John Taaffe, a permanent deacon in St Peter's parish in Drogheda, walked his daughter Amy down the aisle.
The proud father then nipped into the vestry, donned his clerical garb and re-emerged to carry out the ceremony as she married long-time sweetheart David Cunningham.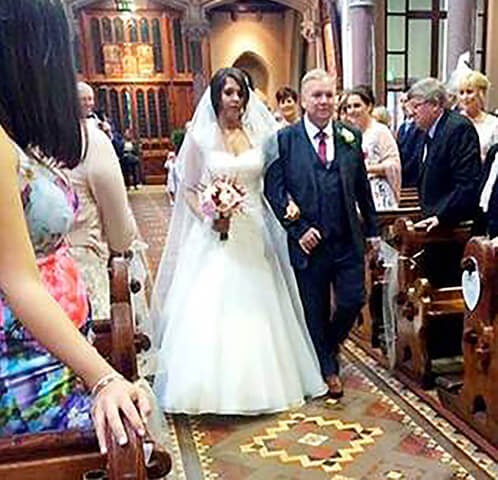 John said he was nervous on his daughter's big day.
"It was emotional," he said. "When I walked Amy down the aisle I was, like any father would be, in a bit of a state.
When I went in to change into my robes, it took me a while to settle down and get my thoughts together. That was only natural I suppose, it's not something you'd do every day," he added.


John also said that, although he enjoyed the occasion, it is not something he will be doing again. "Amy is my only daughter. I have two sons, I'm actually a granddad as well," he added.


John became Ireland's first ever permanent deacon when he was ordained in 2013. He can perform weddings and take charge of funerals but cannot celebrate a full Mass.

He said: "People get confused when they hear the title 'deacon'. They assume I am going on to be a priest, and there are those type of deacons as well, but I am a permanent one, I am still happily married to Joan."

As well as giving the homily in the church, John had to deliver a 'father of the bride' speech at the reception.

"All I was worried about by that stage was making sure the guests were not fed up listening to me," he said.

H/T : Irish Independent Photo: Martyn Smyth